About Chaplin
Sir Charles Spencer Chaplin, Jr. KBE (16 April 1889 – 25 December 1977), better known as Charlie Chaplin, was an English comedy actor, becoming one of the most famous performers in the early to mid Hollywood cinema era, and also a notable director. He is considered to be one of the finest mimes and clowns caught on film and his influence on performers in both fields is great.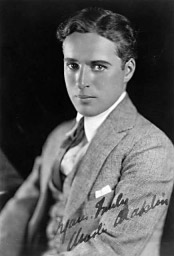 Chaplin was one of the most creative and influential personalities in the silent film era: he acted in, directed, scripted, produced and eventually even scored his own films. His working life in entertainment spanned over 65 years, from the Victorian stage and music hall in England as a child performer, almost until his death at the age of 88.
He led one of the most remarkable and colourful lives of the 20th century, from a Dickensian London childhood to the pinnacle of world fame in the film industry and as a cultural icon.
His principal character was "The Little Tramp" (known as "Charlot" in France, Italy and Spain): a vagrant with the refined manners and dignity of a gentleman who wears a tight coat, oversized trousers and shoes, a bowler hat, carries a bamboo cane, and has a signature toothbrush moustache. Chaplin's high-profile public and private life encompassed highs and lows of both adulation and controversy.
Feature length movies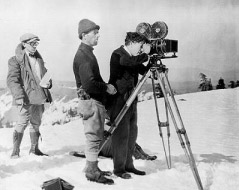 For a comprehensive filmography, please, visit IMDb.com.
Chaplin quotes
"All I need to make a comedy is a park, a policeman and a pretty girl."
"The minute you bought your ticket you were in another world."
"I remain just one thing, and one thing only, and that is a clown. It places me on a far higher plane than any politician."
"The saddest thing I can imagine is to get used to luxury."
(On being informed that Hitler sat through two screenings of "The Great Dictator") "I'd give anything to know what he thought of it."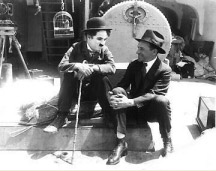 "The summation of my character [The Tramp] is that I care about my work. I care about everything I do. If I could do something else better, I would do it, but I can't."
"I had no idea of the character. But the moment I was dressed, the clothes and the make-up made me feel the person he was. I began to know him, and by the time I walked onto the stage he was fully born."
"Failure is unimportant. It takes courage to make a fool of yourself."
"It isn't the ups and downs that make life difficult; it's the jerks."
"Life is a tragedy when seen in close-up, but a comedy in long shot."
"A day without a laugh is a wasted day."
Useful links
---